PDFZilla is a PC & MAC software Development Company launched back in 2009, has just released its new service, a Word to JPG converter. This powerful tool enables users to convert documents in bulk without the use of MS Word or MS Office.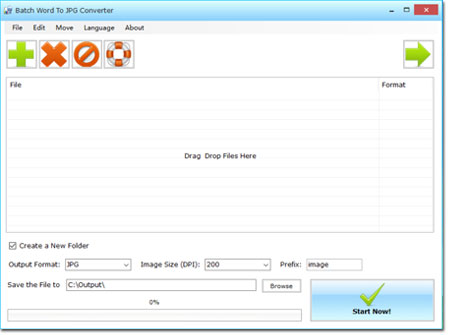 This new tool is free and takes just 6 MB of space. It works flawlessly on any 32/64 bit Windows version, from XP to Windows 10. It also works on Windows Server. It supports numerous languages, including but not limited to English, Chinese, Spanish, Danish, Korean, Dutch, French and Arabic. In addition to working very fast and doing a perfect job, this software from PDFZilla enables users to edit their PDF files in MS Word. Additionally, it enables users to cut, rotate and even merge PDF documents.
Word to JPG Converter Benefits
Batch Word to JPG converter is a similar tool to the developer's main release. This batch Word to image conversion tool gives users all the benefits offered by this software company, including reliability, speed, accuracy, customization, and multi-language. People can convert any type of Word Doc or DOCX document to jpg with ease. This program supports not just Doc and DOCX, but also ODT, RTF, and HTML. In terms of image output, users can choose JPG or go for BMP, PNG, JPG, GIF, TIF, TGA, and PCX.
With the Batch Word to JPG Converter, anyone can save word files into JPG or other similar formats without having to install the MS Office Suite. They can also convert hundreds, even thousands of files at once. To top it all, users can also use this program to convert their documents from Word to PDF format. Thus, they can easily transfer their documents across the web using a format that is widely recognized and has a small size than an image. Users can also choose between different image output file sizes. They can go with a DPI value of 200, 300 or even 500 and enjoy a much better image quality.
How to Use Software for Conversion?
When it comes to using this tool to convert batches of Word document into JPG, users should take some specific steps. More specifically, there are 3 steps that need to be taken.
1. First, the user needs to drag and then drop his DOC, DOCX documents or any other HTML, RTF or ODT supported file formats into the file list.
2. Second, he needs to select the output format from the "Output" drop list. While the JPG is set as default, he can also choose BMP, PNG, GIF, TIF, TGA, PCX or PDF. Next, he needs to select the output folder, which is the place where the converted images will go to.
The user can also create a new folder. When this option is selected, the tool will create a new folder for each image in the batch. This is a handy feature for users who need a distinct place for each image. Another option users have is to change the DPI. This is the output image resolution and can vary depending on the quality chosen.
Ultimately, the user can change the prefix of the output image. While the default prefix is "image", it can be changed to anything in order to suit the user's needs and make it easy for him to keep track of files.
3. The third and last step of this process involves hitting the "Start now" button and the conversion begins in an instant. In just a few seconds, Batch Word to JPG Converter tool can convert hundreds of files.
This tool can work 100% offline, without any internet connection. It doesn't upload any data to the web, so it is virus-free and 100% reliable. Users can now fully enjoy it an convert their files fast & secure without being worried about data security threats or privacy issues.
Features of Software
Convert Word Doc/Docx Files to JPG Images in Bulk
Support DOC, DOCX, RTF, HTML/HTM and ODT Formats
Multiple Image Formats Output: JPG PNG BMP TIF GIF PCX TGA
Export to PDF format
MS Office and Word are not Required
Customize Converted Image Size and DPI
Multi-language
About PDFZilla
The company behind this new software is well known for its wide range of tools created to benefit the end-user. Their main tool, the PDFZilla, allows users to easily convert PDF documents into any format, including RTF, HTML and even SWF. It works on any type of Windows and comes with two versions: shareware and paid. With endless PDF converters being advertised online, it's very hard for users to identify a reliable tool that allows them to convert documents in bulk and enjoy flawless results.
PDFZilla came on the market as a legit alternative to all the PDF converters out there, creating a perfect tool that offers unparalleled speed, strength, and reliability.