It might be difficult to convert several PowerPoint presentations into PDF files, especially when there are a lot of files involved. Thankfully, Batch PPT to PDF Converter provides an easy-to-use way to get beyond this obstacle. This shareware programme makes conversion easier, which makes it a great option for anyone who wants to convert files into eBooks, save presentations, or protect files from unwanted changes.
We will examine Batch PPT to PDF Converter's features, functionality, and general performance in this in-depth review to provide readers with an informed viewpoint on this useful tool.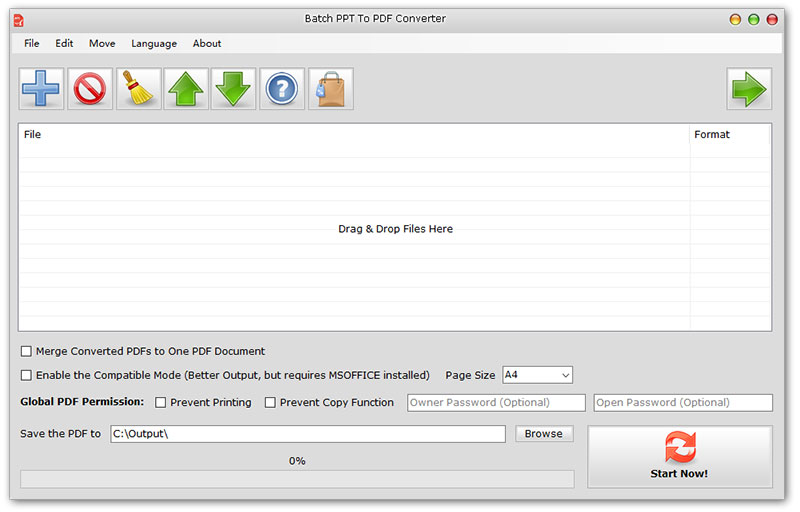 User Interface and Ease of Use
The straightforward and user-friendly interface of Batch PPT to PDF Converter is one of its best features. The application opens in a clear window that makes the conversion procedure simple for users. Users can upload the appropriate PowerPoint presentations to convert to PDFs with ease thanks to the layout's clear guidance. You can add files with ease because of the drag-and-drop feature. The software also has an easy-to-use option that allows you to import entire directories or folders, which significantly cuts down on the amount of time you spend choosing files.
Features and Functionality
To improve its functionality, Batch PPT to PDF Converter provides a number of useful features. The software eliminates the need for manual file-by-file conversion by enabling users to convert numerous PowerPoint presentations to PDF at once. This batch method allows consumers to save a significant amount of time and effort.
Moreover, Batch PPT to PDF Converter is compatible with several versions and supports a large variety of PowerPoint formats. It handles PPT, PPTX, and PPTM file types with ease. Because of its adaptability, users can convert presentations made with earlier iterations of Microsoft PowerPoint without experiencing compatibility problems.
By giving customers the ability to choose the location and naming convention for the converted PDF files, the software also provides versatile output possibilities. Users have the option to choose a specific folder or keep the generated PDF files in the same place as the original. To ensure organisation, Batch PPT to PDF Converter also lets users name the produced PDF files anyway they see fit.
Performance and Conversion Speed
Performance-wise, Batch PPT to PDF Converter shines, offering quick and effective conversion rates even for sizable presentation files. In our tests, the programme reliably and quickly converted a number of PowerPoint files, preserving the original formatting and information in the generated PDF files. When working with sensitive data or documents that need to be presented with exact precision, this dependability is crucial.
The software additionally guarantees that the converted PDF files preserve the original PowerPoint presentation layout, complete with hyperlinks, text formatting, and graphics. This focus on detail maintains the original presentation material's interactive components and visual attractiveness.
Additionally, Batch PPT to PDF Converter balances system resource usage with conversion speed. While doing conversions, the software makes effective use of computer resources, enabling users to continue working on other projects without experiencing significant disruptions.
Conclusion
To sum up, Batch PPT to PDF Converter provides a very practical way to convert large quantities of PowerPoint presentations to PDF files. Its user-friendly design and excellent feature set make it suitable for users with different levels of technical proficiency. With this software, you can easily and effectively produce eBooks, archive presentations, and safeguard your work from unauthorised changes. Users looking for a dependable PowerPoint to PDF conversion will find Batch PPT to PDF Converter to be a fantastic option because to its speed, precision, and reliability of the conversion process as well as the preservation of original file layouts.


Download the software-